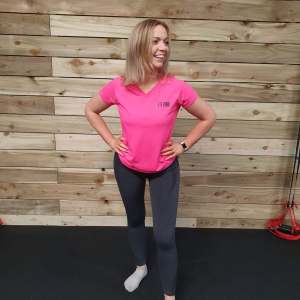 FitPink Review From a Fitness Instructor
A FitPink Review From a Fitness Instructor
Maria Rushe, friend of FitPink - one of our 'day ones' Maria has been supporting us from very early on, and continually being a champion of FitPink.
Maria is one of our Brand Ambassadors, one that we're insanely proud and grateful to have on board because she encompasses everything we stand for, and more!
From showing us women that our 'Jiggly Bits' are there to be cherished, to - keeping us fit during lockdown alongside Husband Emmet (the pair run Rushe Fitness) and also just keeping us sane and entertained with her content on social media and her blog. A fitness instructor, teacher, content creator, writer, Mammy and - supporter of small businesses that she believes in - we are needless to say, chuffed to be one of them. Below is Maria's recent review
The S Mum Blog - My Fablis FitPinks - Maria Rushe
If you follow me on social media, chances are you are well used to seeing my bum clad in various colours and styles of FITPINK gym and athleisure gear.
I've been a brand ambassador for this company for a while now.
I don't work with many companies. I rarely do collaborations anymore and I never do advertising for brands.  I'm a writer, not an advertiser.
However as a fitness instructor, I happily endorse these leggings.
Maria and Emmet run Rushe Fitness
Let me tell you about my friend Jenni and how I ended up helping her to promote what is certainly one of the most successful small companies in Ireland.
Jenni is based in Donegal and her range is designed in Donegal. You can read her story in her own words here.
I love to support new Donegal companies, so I bought a pair.
I loved them.  I wore them and, as a gym owner and blogger with a humble but highly engaged following, I slowly watched many of our female clients begin to wear the leggings to class.
They are squat proof, structured, absorb sweat beautifully and look great.  I particularly love the Compression style which keeps my mum tum feeling nice and secure.
Jenni and I were put in touch via a mutual friend and we quickly became good friends, both online and in real life.  We share a few characteristics you see…
We're both busy mums, we both work hard, we both have a passion for fitness and both shared an impatience for poor quality gym gear.
Jenni's selection of products and styles has been growing.  She is open to suggestions about what women in gyms need.
With my daily (sometimes twice daily) Rushe Fitness LIVE workouts, the leggings are getting washed constantly.  They wash and wear like a dream, remaining just as stretchy and secure as their first wear.
The leggings are fashionable and functional, and with a range of teeshirts, hoodies and sportsbras, and more products in the pipeline, FitPink Fitness is set to go from strength to strength.
I'm proud to have been a supported of this Irish brand from the start and I look forward to watching her successes in the future.  
And there's more… by supporting Jenni's beautiful brand, you are supporting women and girls all over the world. For every item she sells from her range of gym leggings and t-shirts, Jenni contributes  to Plan International's Girl Fund to provide dignity kits to girls and women in refugee camps in some of the world's poorest regions.  Learn more.
And if you'd like to join Emmet and myself in our Rushe Fitness LIVE community, hit here.
*I am an official Brand Ambassador for FitPink and am provided with gym gear to test and wear.  I am however under no obligation to write this review.  As always, my opinions are my own and I would not endorse a product or brand without fully believing in them.