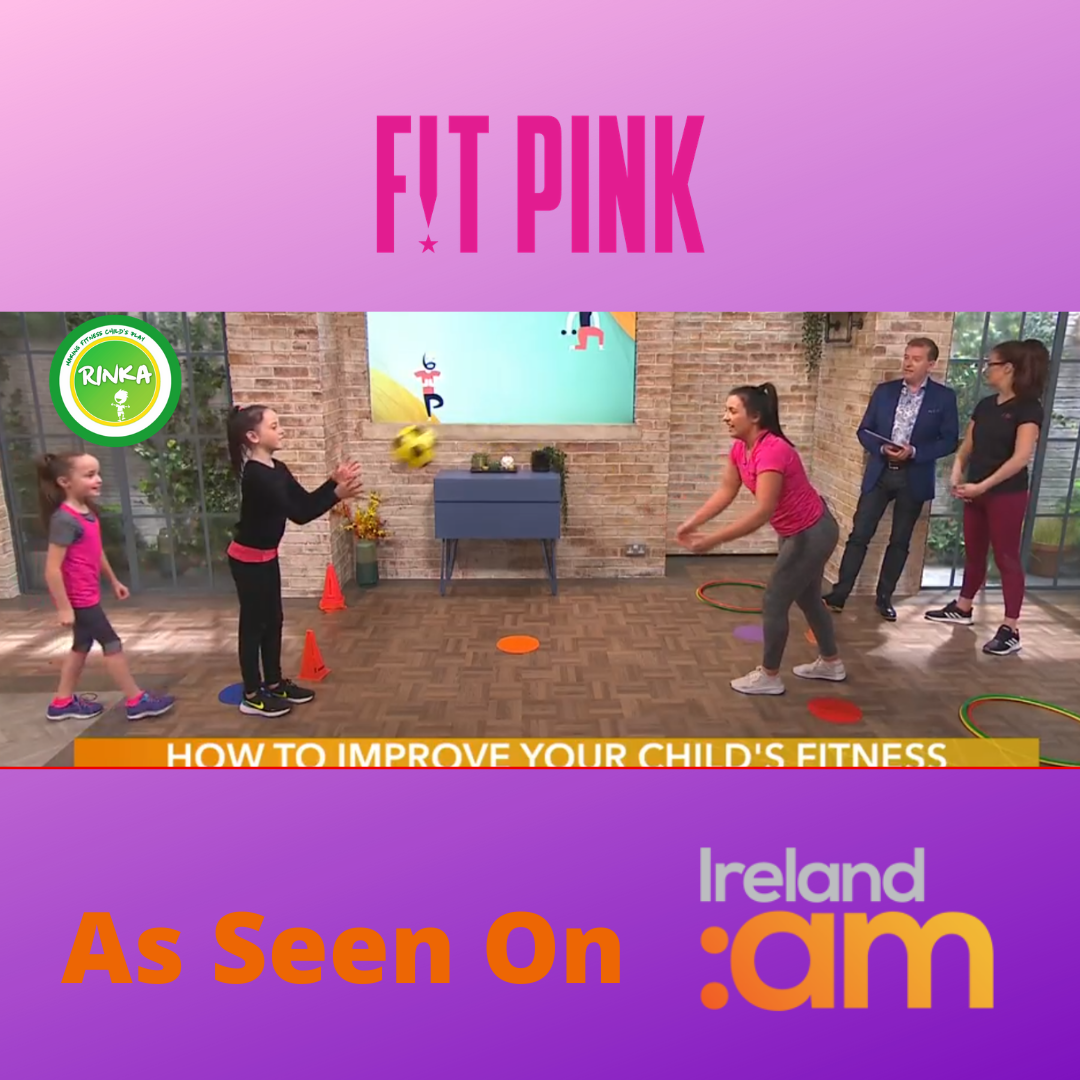 FitPink Fitness, As Seen on Ireland AM - Kid Friendly Fitness with Rinka
Sarah Gillespie's Rinka classes bring an emphasis back to fun, natural playful exercise for children empowering them as they acquire basic movement and coordination skills – 'making fitness child's play' as demonstrated recently on Ireland AM. Rinka's Sarah and Sandra were fully kitted out in Fit Pink Fitness for their wonderful Irish television appearance, where Sarah provided expert advice on how to improve your child's fitness.
Sarah discussed the benefits of Rinka, and children's fitness generally with Alan on Ireland AM, where Sarah explained that fitness should, and can be made a normal part of a child's life and indeed family life – through simple, playful exercise routines. The children who participate in Rinka classes, can do so from age 3+ and are made to feel confident, comfortable and empowered to move around in an environment which encourages fun fitness, and are taught how their muscles work and why water consumption is important. Immersing children in this positive lifestyle mindset while normalising it. With devices taking over and free play taking a hit as a result, the focus here with Rinka, as Sarah explains, is bringing it all back to movement which in turn builds skill and aids coordination in a way that isn't forced or uncomfortable for little ones, in fact the total opposite whereby children do animal walks and 'the floor is lava' excitedly moving and making for a restful nights sleep in the process! A wonderfully engaging activity for little ones to feel fit through fun and increasing confidence all the while.
 We were thrilled to kit out Sarah and Sandra for their interview and demo, an incredible segment delivered impeccably by the pair! Truly Fab!
You can watch the Ireland AM segment, here
- https://www.virginmediatelevision.ie/player/show/809/169503/0/Ireland-AM
Sarah wore our black sports t-shirt and raspberry sports leggings with deep side pockets while Sandra wore our our pink sports t-shirt and our V2 compression leggings in grey. 
- Team Fit Pink xo