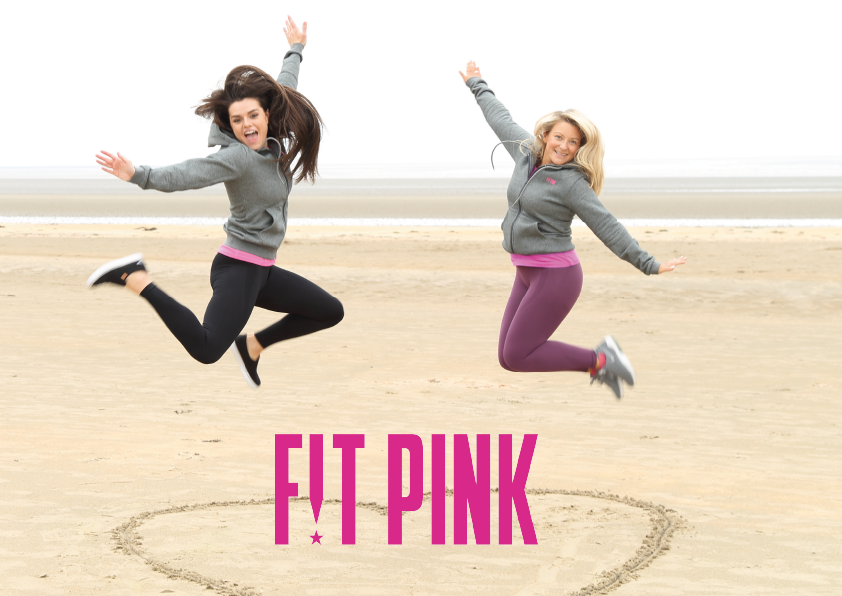 Celebrating 1 Year of FitPink
A year ago, I was sitting in a hotel room in Dublin Airport. I was due to fly to Malta very early the next morning for a holiday (remember those?!) with my family who had travelled out before me.  Two year's worth of work was just coming together and FitPink was ready to launch. I was sitting starting at my laptop thinking 'Do I make the website live now' or 'Do I wait till I get back from the holiday?'.  Naturally I hit 'publish' and just like that fitpinkfitness.com was born! 
Amy & Tara modelling for FitPink in Donegal 
I hadn't expected to get any sales as I had not started any marketing.  So, you can imagine the excitement when the very next day we got our very first sale.  - Thank you, Lisa from Lucan!
Fast forward to the autumn / winter of 2019 and into 2020. I continued to work full time outside the business and came in to FitPink every evening after work to packed orders. (Thanks to my lovely husband Donal for his patience and help in those early days) We went from just one order every few days, to one a day to several a day over that winter. 
I have started businesses before, some successful, some absolute disasters! But from the start FitPink was a business that is just so enjoyable. I wasn't expecting customers to engage with us, chat to us, and support us as wholeheartedly as they have done. For me, that's the part of my day that I get the most job satisfaction from. One of our core values as a business in supporting other women - I just didn't expect to get the same support back from customers, and our wonderful brand ambassadors – particularly Maria Rushe @maria.rushe and Erin McGinty @coolestplaceontheplanet. Maria and Erin do so much unpaid work to promote local businesses and deserve much credit for it.
Erin Mc Ginty, joining us on a recent photoshoot.  
Jenni Timony & Maria Rushe in our Permanent Pop up Shop in Donegal Town. 
All was going well, and then Covid happened. The week lockdown started we were due to sign a lease on a new office. We were faced with a huge dilemma. Do we risk adding more cost to the business when all sales might stop? Or do we push ahead with our plans. We took a leap of faith as we really believed in the brand. We signed the lease and moved office. 
Thankfully we continued to grow. Laura and Shannen joined the team in June. Laura, our Operations and Marketing Manager brings a wealth of experience in retail operations, marketing and has a great eye for design. Shannen our Customer Service guru is the reason you guys rave about our customer service. She has experience looking after customers from all over the world and is a dab hand at social media too! 
Shannen, Laura  & Jenni celebrating FitPinks 1st Birthday!
So, on the eve of 1 year later I look back on our first year with awe. I am so grateful to have such an experienced and committed team in Laura and Shannen. They understand our brand values of Compassion, Creativity and Commitment and live them every day. It amazes me how many of you have embraced FitPink, sent us reviews and helped spread the word about FitPink.  Thank you very much and here's to the future! 
Warm regards
Jenni x